We offer a range of facials using Dermalogica products tailored to your skin type.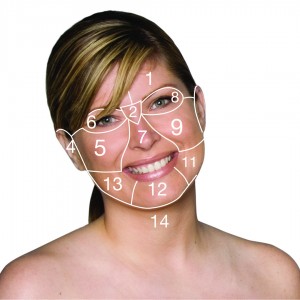 Call us on 020 8329 9476 to book your FREE Dermalogica Face Mapping Skin Analysis.
During your facial, we  are happy to discuss your skin care routine and make recommendations regarding products which may help your skin.  We normally have samples of products available for you to take away and try.  We also have a range of Demalogica face and body treatments on sale.
Our facials range:
Express  (30 minutes)    £33
Classic  (45 minutes)    £44
Indulgence (60 minutes)    £52
AgeSmart (75 minutes) For mature or prematurely ageing skin. £59
Book an intensive course of 6 AgeSmart facials for £320
Dermalogica Biosurface Peel now available

A chemical peel designed to resurface the skin with minmal recovery time. It works with the skin's biology to safely slough away dull epidermal layers and accelerate cell renewal without inflammation or prolonged downtime. Aseries of treatments will be designed to address your specific needs such as photoageing, fine lines and wrinkles, uneven skin tone or acne breakouts.
Single treatment (60 mins) –  £72
Course of 3  – £216
Course of 6 (includes afftercare skin kit)  – £410
Treat yourself to a little something extra
ADD one of our TOUCH THERAPIES to your treatment

15 minutes of extra attention where you need it most for JUST £15
Choose from:
Age Reversal Face
Stress Relief Back
Stress Relief Scalp
Stress Relief Foot
Please see General Information for terms & conditions relating to courses.