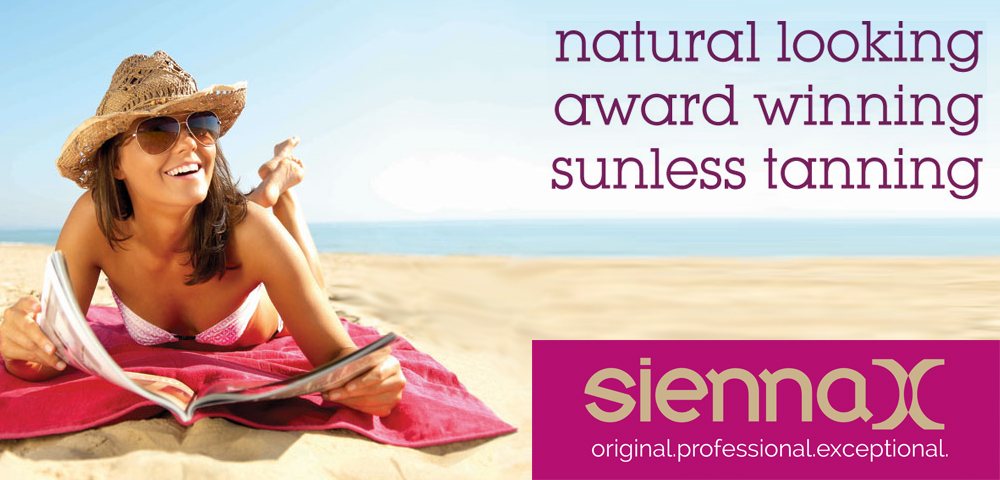 Sienna X spray tan lotions:
are  a unique, complex blend of natural tanning agents
contain antioxidants and moisturisers
are paraben and alcohol free
contain pure, fresh and natural DHA, tan activating erythrulose, anti-oxidant, Vitamin E, organic Aloe Vera, anti-ageing co-enzyme Q10, avocado extract and a coconut scent
produce a gorgeous, natural and long lasting colour
and have no after smell
Full Body Tan – 20 minutes
 £30 – Senior Therapists
£27 – Therapists
Need to tan quickly?
Sienna X Express Tan has been specially formulated to give a gorgeous, quick developing tan so you can have a spray tan now and be ready for an evening out.   It develops in just 1 to 4 hours.
The Express Tan is ideal for that last minute night out or occasion, or if your not a fan of sleeping in your tan.
£32 – Senior Therapists
£29 – Therapists`
Various Sienna X retail products are available for pre-
& post-tan application to help prepare your skin and
prolong your tan.
Preparing for your Spray Tan
Exfoliate beforehand.
Don't use moisturiser, deodorant, perfume products or anything on your skin.
Wear loose, dark clothing.
Wear loose shoes such as flip flops or Birkenstocks.
Leave on for a minimum of 8 hours (except the Express Tan), the longer the better.
If you leave the spray tan on overnight, sleep in loose bedclothes.  We recommend you put an old towel on your pillow.  Any tan which gets on bedding or night clothes will come off.
Shower off; the guide colour will come off but don't be alarmed, your skin will still be tanned.
Pat yourself dry with a towel.
The more you rub, shower, bath and sweat, the quicker the tan will fade.
Don't use oily products/moisturisers.  Try something like Skin Smoothie Oil (which is a dry oil).