Our Airbase airbrush make-up provides you with a flawless finish that doesn't move. The mix of polymers and silicon within Airbase make-up mean it's durable, flawless and longlasting, making it ideal for any special occasion – whether you're at a prom, your favourite restaurant or partying the night away.
As this long-lasting make-up requires no touch-ups, it's great for brides and bridesmaids and other members of the bridal party who won't need to worry about their make-up degenerating during that special day.
Airbase Make-up is also a perfect solution for corrective cosmetic applications – it can conceal a scar or a tattoo or small blemishes.
We've even used it to help conceal a groom's nervous, red flushes!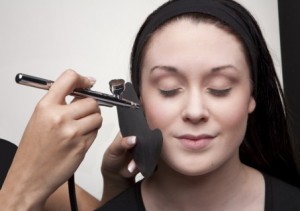 Why not give Airbase airbrush make-up a try the next time you're going somewhere special? Our Just Airbase option costs £20 and provides airbrushed Foundation, Bronzer & Blusher that promises:
weightless airbrush application
long lasting & waterproof
to allow your skin to breathe
a smooth, natural and flawless finish
make-up that is silicon based, fortified with vitamins

If you want something more than the basic Airbase Make-up, we can combine it with mineral & Mii make-up for a complete look.

Make-up Trial (90 minutes) £60


Using Airbase, Mii & mineral make-up.
Make-up (60 minutes) £45
Using Airbase, Mii & mineral make-up.
Bridal (on Wedding Day) £75
Make-up Lesson (90 minutes) £55
Take a look at our Bridal Packages
EAR PIERCING
We offer an Ear Piercing service using quiet Caflon Safetec Gold equipment
The cost is £30 including a pair of stainless steel or gold studs.